In PyCharm, the popup that shows when you hover over the error will suggest a few fixes. You'll probably see "Import this name" as one as it's guessing that maybe b is referring to a module we forgot to import. In this case, that is not the correct fix.
Move the mouse and click on "More actions..." (or press Alt+Enter or ⌥+Enter on macOS) and you will see a list of possible fixes that PyCharm thinks could help.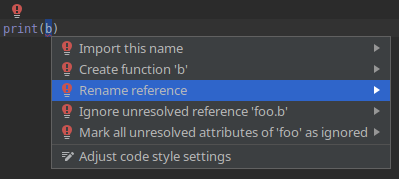 In this case we want to choose "Rename reference" so click that and you will see a list of options for renaming the used variable: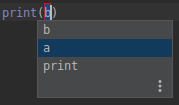 Select a by double-clicking it or selecting it with the keyboard and pressing enter.