Once all that setup is done, PyCharm will prompt you to create a new project. A project in PyCharm usually refers to a directory with Python files inside it. If you are working on multiple different Python packages you can create a project for each.
In this course we will be creating a new Python package from scratch. By default it will be naming your project untitled and will be automatically creating a directory for it with that same name. Change the highlighted part of the project location path to utils.
Make sure that under the "Project Interpreter" drop-down section you have "New environment using Conda" selected. Set the version to 3.6 or 3.7 or newer.
If you have installed Anaconda yourself from anaconda.com then you may have to set the Conda executable to point to wherever you installed it, probably C:\Users\<username>\AppData\Local\Continuum\anaconda3\condabin\conda.bat if you are on Windows.
In the drop-down area, the Conda environment Location to should be set automatically. If it is not, then set it to something like C:\Users\<username>\condaenvs\utils (replacing <username> with, e.g. mw16387) if you are on Windows.
The following screenshot shows the layout of the dialog box. The paths you see in the screenshot will likely not match what you have. If you have any questions about what to type in these boxes, please ask.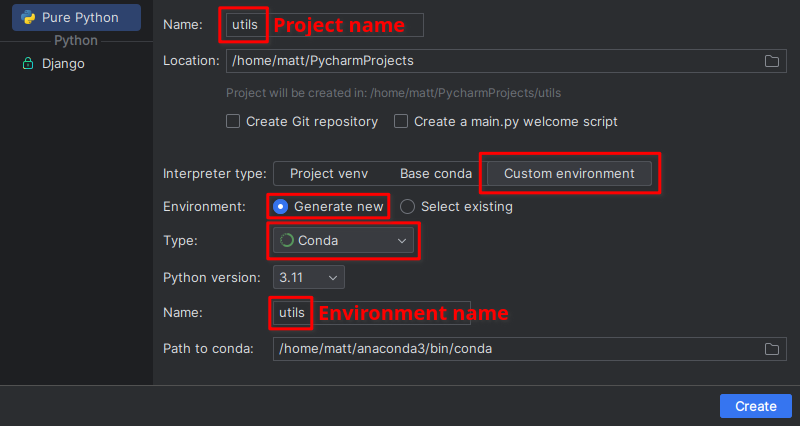 Finally click "Create".